Find out how we can help:
CONTACT US
Nothing so liberalizes a man and expands the kindly instincts that nature put in him as travel and contact with many kinds of people.
~Mark Twain
I hope you found the information on this website helpful in planning your next marketing campaign. The real power in growing your business in this era lies in the integration of media. All your advertising efforts must gentle pull prospects to the decision to do business with you. I look forward to assisting you in your efforts.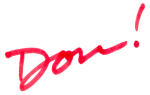 Don The Idea Guy Snyder
Senior Vice-President of Integrated Media
(614) 340-7910
ideaguy@remergemedia.com
www.remergemedia.com
Remerge Media : Marketing Services Group
443 Village Park Drive
Powell, Ohio 43064
About Don Snyder
Possessing creative powers beyond those of mere mortals, DON THE IDEA GUY rescues those in need of innovative ideas through his brainstorming sessions, articles, and websites...
www.DonTheIdeaGuy.com
Don has been featured in Small Business News, interviewed by the New York Times, quoted in Fast Company magazine, and served as the first president of the International Idea Trade Association.
The Idea Guy has sold, shared, or traded ideas with the likes Sears-Kenmore, Ford Motor Company, Palm, American Airlines, Coca-Cola, Kelloggs, The American Marketing Association, Doug Hall, Seth Godin, Daniel Pink, Jeffrey Gitomer, and
The Tom Peters Company.
Don is the author of the book "100-WHATS of CREATIVITY" and has written dozens articles and hundreds of blog postings on the subject of increasing innovation and adding creativity to your personal and professional life.